About Mull
The Isle of Mull is situated just off the North-West coast of Scotland (see map to the lower right-side of this page) and is well-known as a 'Wild Isle', partly due to its great variety of habitat, from white sand beaches to mountains, and from moorland to woodland.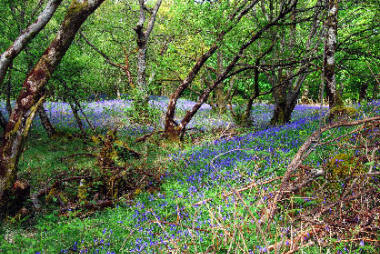 Bluebells in woods at Gruline
Most of the destinations given below can be reached, with planning, by public transport as well as by driving, and many are an easy cycle away. All links open in a new window.
There is a great variety of activities available within a short distance, from whale and dolphin watching to a land-based wildlife tour.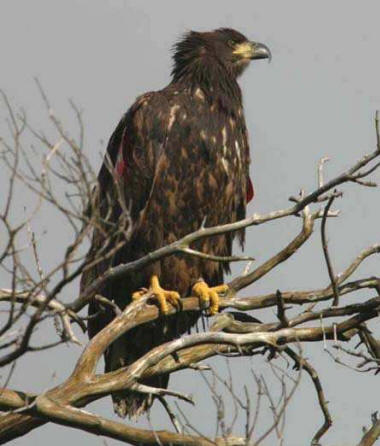 A White-Tailed Sea Eagle ©Alan Spellman
About ten minutes' drive away is the meeting point for the award-winning Mull Eagle Watch.
Within Tobermory is the multi-disciplinary Arts Centre of An Tobar, which hosts exhibitions and performances and also has an excellent cafe.
Just a few minutes' walk away is the new centre for our professional theatre. Mull Theatre give performances on Mull and elsewhere, throughout the season.
About twenty minutes' driving over hills and past freshwater lochs takes you to the picturesque village of Dervaig.
About fifteen minutes further on takes you to the beautiful white sands of Calgary Bay.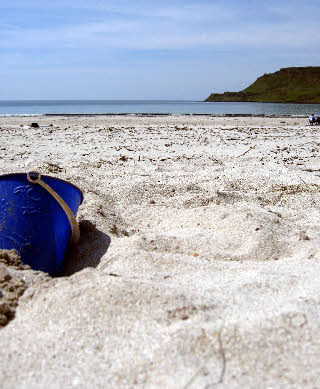 A bucket's eye view of Calgary Bay
If you want a longer 'tour', and have your own transport, you can carry on round the west side of Mull, travelling along the side of Loch Tuath, past the waterfall of Eas Fors, and then around the side of Loch Na Keal where the vistas of sea and islands are utterly breathtaking. You can then finish the round trip by travelling, via Salen, back to Falls Lodges.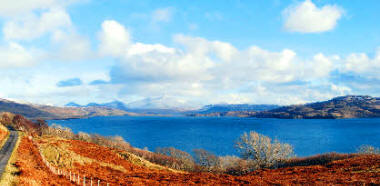 Loch Tuath looking towards Ben Mor in winter
If you would like to book, or to ask a question, just get in touch.
Where are we?
Falls Lodges are situated under a 15 minute walk (or 5 minute cycle) from Tobermory, the model for the TV show Balamory.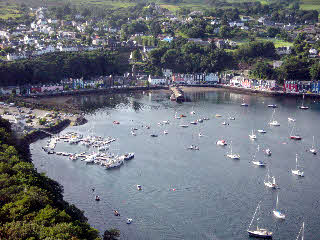 Photo of Tobermory taken above our croft
Tobermory has a wide variety of shops (including a Co-op and a Spar) as well as the famous Tobermory Chocolate Shop and Tackle and Books, which sells fishing tackle and books. Tobermory Togs and Toys sells children's clothes and toys.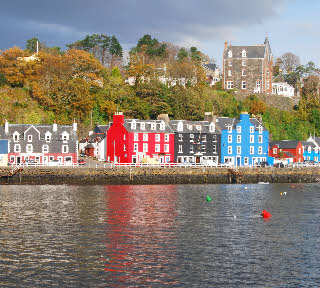 Tobermory is famous for its painted houses
Tobermory's many restaurants and cafes include the Les Routiers recommended chip van. The town is home to the Mull Museum, the Hebridean Whale and Dolphin Trust, and is the starting point for a wide variety of boat trips.
For a more complete list of shops and services in Tobermory click here.
Below is a 'zoomable' map which shows our position and allows you to get directions:
View
Falls Lodges
in a larger map